4.1 Installation Location Choice Principle:
▲Installed in the irrelevant personnel not easy contact place; And easy to the power supply and decorate place;
▲Have cable feeder,it's convenient opening fiber connection;
▲The installation location should avoid heat source and damp;
▲The installation location should be well ventilated.Need to vertical hang it on a wall or a mast, in order to ensure that the heat dissipation.When hanging, need to consider from the top≥ 50 cm and distance from the bottom ≥100 cm ;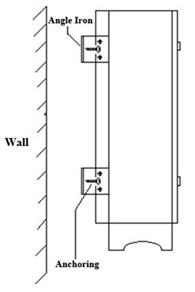 4.2 Optical Fiber Connection
Optical fiber connectors should adopt type of FC/PC, in general it with black protection cover and corresponding to light adapter.Please with instruments cleaning detergents to spray when connecting. In order to avoid besmirch influence light way transmission, increase the light path insertion loss.Please follow the image when joining: plug the bolt aim at key slot (as per image),tighten up after plug: can not too tight or too loose. Otherwise, it will affect the loss of the optical connector.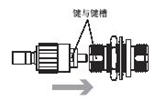 P.S:The optical cable don't crimp, need cover by good protection.
4.3 RF Coaxial Cable Connection
Donor Antenna & Service Antenna connect with RF Cable, connection as per image:

5、Equipment Control Function
5.1 Set up the parameters of system
Relate to the RF index of the system, set up the parameters of the system、inquiry and the real-time display the alarm information. Can through the Local Control & Remote Contro, anytime, anywhere to operate and maintain the equipment.
Local Control: can through RS232 Port connect to the port of computer which setup the local monitor.
Remote Control: can use the Modems with SIM card through Message to set up the parameters.
The parameters of the system usually included Channels、Output Power、Gain、Time delay etc. and the alarm functions. The above parameters can be optimized according to the relevant requirements and the practical used effect.